Why brands need to think like publishers
Content creation, consumption and commerce is the model that brands should invest in if they wish to be thought leaders in their category
A popular Indian fashion e-commerce brand shared a neat brief – "We want to transform our brand's perception from a transactional mindset to owning the online fashion category." The brand wanted to transform its perceived sales notion to thought leaders in the online fashion category.
Being a thought leader isn't an easy task. You have to convince, you can't force. Besides the other challenge was the target consumer – largely the young generation consuming content on their mobile devices.
During a day's brainstorming session, I just blabbered if the brand wants to be a thought leader in the category then it will have to think and behave like a publisher. While it sounded irrational to me at that point, but more I went deeper I realised it is a long term rational strategy (The publisher in me was confident.)
Breaking down the idea
I started reading research material and talking to people who understood fashion and are comfortable shopping online, based on the "Product Adoption Curve"(see image below) I interviewed Early Adopters and Early Majority consumers. The objective was to understand how do they keep up with fashion trends, what's in and out, etc. and finally where do they shop.
Most of them answered that they go to online fashion publications/ blogs/Instagram to understand about fashion. Once they have clarity, they then look to do the shopping. Sales play an important role, but design and ease of use comes to play with other factors when it is mobile shopping. A seamless and personalised experience is demand. "What is in it for me" is the bigger question.
Creation, Consumption and Commerce Model – can the brand become a go to destination for content creation, consumption and ultimately lead to commerce.
I strongly believe once a brand creates value in a consumer's life, it is creating interest in commerce to happen. It will not happen in the near future but it is the best way to go in for a long run brand building exercise.
Content creation & consumption – will give the consumer an opportunity to feed on all the fashion needs. The brand will have to create and distribute content like a publication. The sole objective of the brand should be creating value for its consumers. This could be in the form of a magazine that will become a content hub. In other words, the content created gets distributed from here to social media, newsletters, and other publications. This kind of model helps the traffic drive back to the brand's platform since it is the only platform that you own.
Commerce – once the brand has created enough value for its consumers, it is time to show them the commerce bait. It is the smart placement of call to action signs to let your consumer know that your fashion needs can also be fulfilled on this portal. Today's consumer is way smarter than you think so make sure you keep a balance on the commerce part. Always make sure that the content is on the face of the consumer and not your "buy here" links.
Remember always that the consumer has landed on your platform to satisfy her fashion needs first and then the commerce.
Let's take an example: A brand creates a story on the types of sneakers that you should wear on a Friday night. One journey could be – the story sits on an Instagram Stories with a read more link that would lead the reader to the magazine sitting on the app. Once the reader is on the app reading the story, you can provide a clear call to action for the sneakers.
This entire journey shows not only you have created a story that adds value to the consumption behavior of the consumer but also the smart insertion of commerce. Additionally, the traffic sits on your platform and now the job is to keep the user engaged on the platform. This is where your "Consumer Experience" comes to play.
Is this an out of the box idea? No. Brands like Jabong, LimeRoad, and Amazon India are already doing. But the effort isn't commendable. Earlier I loved the Jabong magazine and how it sat prominently on the mobile app. The latest redesign has removed the magazine and is focusing on integration with Myntra.
Even when you sign in to the Jabong/Myntra app with a promise of personalised experience, I am disappointed. Can the brand surprise me with a home/a section on the profile page which curates products based on my personalised buying behavior? It is more than a year, that Myntra has been my go-to portal for shopping. But it fails to give me such an experience. In fact, I spend maximum time in scrolling through the long list to match my taste after applying filters.
For Myntra, the focus is on the loyalty game with Insider. According to the app, I am a 'Select' member – with benefits showcased in the below screengrab.
Insider Experiences is exciting but is it tailored to my personal interest? For instance, I won't be excited to meet the NBA Star. No offense but I don't follow NBA.
A few months ago, Amazon India had a section for content consumption but the execution was shabby. Now the focus is on building a network with your interests. I haven't listed my interests so it isn't working for me. Can I wish if the brand was a little bit more proactive considering I am lazy? I have been shopping on the app for more than 4 years. Obviously Amazon knows my interests, what is stopping Amazon to surprise me?
Internationally, there are quite a few niche eCommerce players who have adopted the model of content and commerce. Lyst tops my list – check out their post on the latest denim report. The content creation and presentation is on a different level. I bet you might not have seen a report visually presented like this by a fashion brand. The below screen grabs fails to do justice so hit the mobile browser to know more:
H&M largely plays on the Pinterest look has a magazine for the Indian edition. While it is good but the content isn't localised. Definitely I would be keen to know about international fashion but what about my local interests? Localisation can't be ignored anymore.
Another app that I am in awe with is Zara – the visually appealing fashion app powered with the minimal design is a delight for eyes and shopping. They have a section called the 'Editorial' which plays with visual and video content to keep consumers hooked.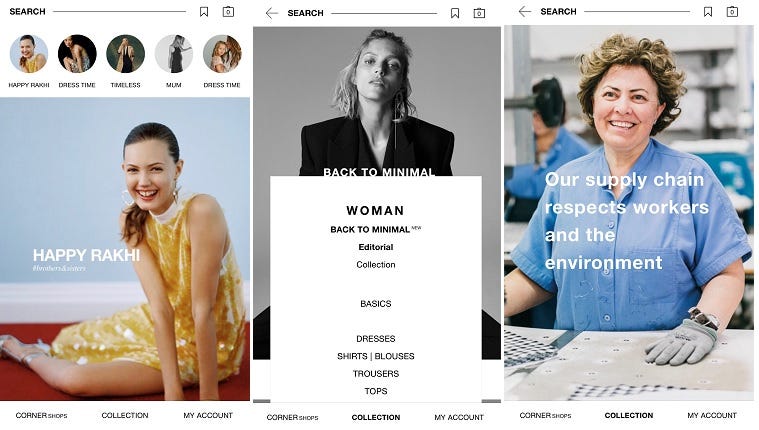 Create, consume and commerce model has largely failed in India for two reasons: First, the execution has been disappointing forcing consumers to run away and largely brands don't have faith in such models. They don't want to invest as it is an ongoing hard work. It isn't a campaign that will give quick results.
Earlier this year: "Unraveling the Indian Consumer" a report published by Deloitte and Retailers Association of India stated "Social Commerce for We Shopping" is one of the trends shaping the Indian retail industry. "28% millennials purchase products due to social media recommendations and another 63% stay updated on brands through social media."
According to the report millennials emphasis more on customer experience offered by product, its brand and design.
India's e-commerce industry is expected to reach $125-150 billion by FY20 on increased internet penetration, analysts at Care Ratings estimate. Cheap mobile data tariffs have aided internet consumption in the country, which is adding approximately 10 million daily active internet users each month. What better time for eCommerce brands to own the space.
But if a brand wants to be a thought leader only providing discounts and sales won't help in the long run. Well, you can debate with the recent findings from Accenture – "Seven in ten consumers in India would be willing to share significant personal information, such as location data and lifestyle information, with their bank and insurer in exchange for lower pricing on products and services."
However, the same report also states 81% of people believe that privacy is paramount and are very cautious about the privacy of their personal data. "Data security breaches were the second-biggest concern for consumers in India, behind feeling like their complaints are not dealt with in an acceptable manner.
So next time brands please ask – what value are you driving in a consumer's life. How are you impacting an individual's life? It isn't about the mass anymore but it is about an individual who is your consumer. If you can't bring value plus personalised experience into her buying then there is dearth of choices.
Loyalty is dead dear brands!