Data driven marketing still a challenge for brands
Indian brands understand the importance of data driven marketing but are hesitant to adopt it completely
Talk to any marketer and the opening line will be "data is oil" or "data is water" or "data is queen".... but have marketers really understood the potential of data. Data was always there but how you drive insights and solve business problems is the test.
Before the advent of digital, the software companies had products that did the job of driving "Business Intelligence". Tools have always been there but the challenge is how do you drive insights from huge data sets and implement to solve business problems. Indian marketers are still struggling. Don't have to trust me, trust Google when it comes to data-driven marketing.
6% of Indian brands have realised the full potential of data-driven marketing, shared the latest report from Google and BCG. 53% of Indian brands are still emerging to use of first-party data and third-party data in basic programmatic media buying with manual bidding, single-channel optimisation, and testing.
(For those who are not aware - first-party data is loosely defined as the information you yourself have collected about your audience. It is the most useful and valuable. Second-party data is essentially someone else's first-party data and plays a larger role in audience extensions and targeting. Third-party data is basically data from aggregator companies, the behemoths of the data world.)
At the annual edition of Google's Think Platforms, Google along with BCG shared insights on brands and their maturity on digital marketing. The study represents participation from over 180 leading brands in the Asia Pacific region that are highly active in digital marketing across 10 industries(Automotive, Retail, Real-estate, Technology, etc.)
BCG has built a framework for the assessment of brands and their levels of digital marketing maturity. The below screen grab tells you how the maturity levels of brand start from stage one i.e. 'Nascent' to evolving right up to 'Multi-Moment'. The majority of Indian brands are stuck in the 'Emerging' stage, similar to 2018.
The report further highlights that the vast majority of Indian brands consider first-party data important to marketing. "92% of Indian brands consider first-party data as very critical to marketing efforts." However, only 6% of the brands understand and implement, they are the ones in the 'Multi-Moment' stage.
Brands in the 'Nascent' and 'Emerging' stage are still not clear or are unwilling to trust first-party data. Technological factors such as "Inability to link technologies(53%)", "Lack of understanding of data(36%)" and "Lack of business case for data-driven marketing projects(33%)" are the top barriers to achieve the benefits of first-party data.
Google ends the report suggesting that mature Indian brands typically use cloud solutions to unlock the benefits of first-party data. Obviously, Google will recommend brands to use cloud solutions.
But more than tools, it is the perception that marketers have with ROI is also creating problems. "Digital marketers are measuring ROI too quickly and when they are doing they are not really measuring ROI," says the Long and Short of ROI - a report produced by LinkedIn Marketing Solutions.
Average B2B sales cycle length is 6+ months, yet 77% of digital marketers are trying to prove ROI within one month. In doing so digital marketers are measuring KPIs which is a short term impact of campaigns and call it ROI.
These findings are part of an online LinkedIn survey of 4000 global B2C and B2B marketing professionals from 19 countries - UK, France, Germany, India, Japan, China, etc. Conducted in July 2019, the respondents worked in a range of sectors including Technology, Healthcare, Education, Travel, etc.
According to the report, digital marketers struggle to measure ROI due to internal pressures.
90% make optimisation decisions within one month to overcome pressure of showcasing results and 58% for the pressure of approval. The pressure of approval is the same across different regions and is a global problem.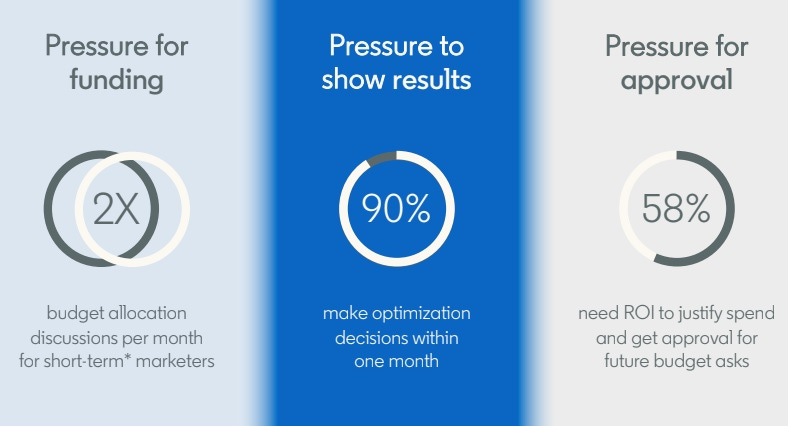 As a solution, LinkedIn informs that digital marketers should adopt a long term mindset and measure ROI over the length of the sales cycle. However, digital has cultivated a mindset that everything is for quick and so are the results.
Marketers are more concerned about campaign results, so we equate KPI as ROI.
Similarly, marketers not adopting first-party data completely shows the resistance of adopting a long term mindset. More than the tools the mindset has to change otherwise we will be the first ones in adopting a tool and after a few months, we will realise that we have failed to drive any business results and solve any consumer problem.
Next time if you share insights about data-driven marketing, ask yourself how you are using the first-party data and measuring ROI.