Why is TikTok investing in #EduTok program in India
TikTok is extending the #EduTok program to offline with the objective of educating the youth. But why is the Chinese App investing so much in India? The answer is somewhere in not getting ban again an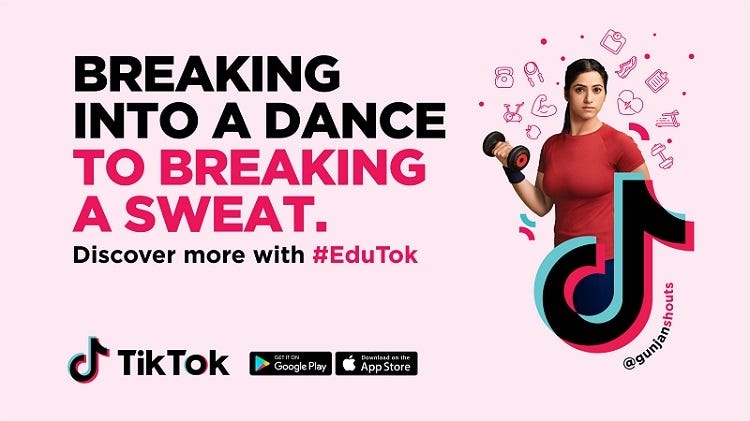 Plank is a simple and effective bodyweight exercise that requires no equipment and can be done anywhere. But doing a perfect plank is crucial? Here is a quick TikTok video where you have Kriti Sanon showing you to do the right way. Can you ask for more?
https://www.tiktok.com/@sophie.choudry/video/6747878246874025217
The above TikTok video is also a part of its ongoing initiative #EduTok - inspired by knowledge, grow via education. According to the app, the hashtag has 46B+ views. The discover option on TikTok has a section #edutoklifetips with 3.2B+ views.
#EduTok - online and offline program
Earlier in the month of June, TikTok, the popular short video platform with 200 million users in India started #EduTok as an in-app challenge. The initiative was driven by the purpose of bringing change in the society by sharing knowledge. According to the company, the campaign got an amazing response with influencers joining into the initiative.
TikTok is now taking the #EduTok program to offline by forging a collaboration with leading social enterprises such as Josh Talks and The/Nudge Foundation. The program is aimed at supporting first-time Internet users to gain knowledge by giving them access to high-quality educational content created by creators and organizations.
As part of the program, Josh Talks will organise 25 workshops and The/Nudge Foundation will also create tailor-made content for young individuals so that they are future-ready for the job market. Over the next six months starting from October 2019, these workshops will be held in six states(Bihar, Andhra Pradesh, Telangana, Rajasthan, Jharkhand, and Jammu) working with regional TikTok creators.
The mentorship program is tying up with key educational technology companies such as Toppr, Made Easy and GradeUp to deliver subject-focused content for the platform.
India is evidently one of the biggest markets for Byte Dance TikTok's parent company.
In the month of July the company had stated that it is investing USD one billion dollars in India with a strategic focus on developing technology infrastructure, local partnerships and supporting initiatives such as the Skill India Program.
But why is the Chinese company interested in supporting the Indian government's Skill India Program? The answer lies in the past and it is not always romantic.
The horrific past of TikTok in India - a hub for porn and hate
In April 2019, the Madras High Court passed an order to ban TikTok, after a two-bench noticed that the app exposed children to pornography, and makes them vulnerable to sexual predators online. As reported by INC42, the Madurai bench passed an interim order, as follows:
The Government is directed to prohibit downloading of TikTok Mobile App

The media is prohibited from telecasting the videos made using TikTok Mobile App

The government has to answer whether the Union of India will enact a statute, like the Children's Online Privacy Protection Act, enacted by the United States, to prevent the children becoming cyber/online victims.
By the end of the month, the ban was finally revoked. Bytedance challenged the court's ban order in the Supreme Court, saying it went against freedom of speech rights. The Chinese company added that a "very minuscule" proportion of TikTok content was considered inappropriate or obscene.
Later TikTok removed over 60 lakh videos that were deemed unlawful and obscene. In addition to this TikTok introduced an age-gate feature for new users, which will prevent users aged below 13 using the app. This is just a namesake feature. TikTok also introduced safety centers in 10 regional languages, asking users to restrain.
However, this was just the beginning of problems for TikTok in India. It now faced the heat from the Ministry of Electronics and Information Technology(Meity), which asked the company 24 pointed questions related to anti-India content and obscene video clips. The government asked questions on how TikTok collects and shares user data. The government swung into action after a letter was addressed to PM Narendra Modi by co-convener of Swadesh Jagran Manch, Ashwani Mahajan. He claimed that the app has become a hub for anti-national content and they were exposing India's youth to being influenced by vested interests.
Porn is not the only problem for TikTok, "Hate speech and religious" content is another issue. In August WIRED did an investigative piece on how TikTok is fuelling India's deadly hate speech. According to court documents received by WIRED:
During the five months between November 31, 2018 and April 19, 2019, the company removed 36,365 videos that breached its rules on hate speech and religion, and another 12,309 videos deemed to include dangerous behaviour and violence.677,544 videos were reported to moderators and only one in ten of them (67,431) were removed for breaking TikTok's guidelines.
TikTok more or less resolved all the issues with Meity. Medianama has a detailed story on all the answers including the data issue by Bytedance.
Data of Indian users collected on TikTok and Helo is stored in the US and Singapore. Bytedance doesn't transfer this data to any governments "except in response to valid requests from Indian regulatory and government agencies". TikTok and Helo generate revenue through ads, and hence data about the platforms is shared with advertisers and service vendors. This data is either de-identified or anonymized.
There are also plans to open up a data center in India, something Facebook, the biggest market for India has ignored.
Global problems and security issues
Chinese internet apps and security issues are identical twins. After Guardian reported in 2013 that the National Security Agency has been obtaining direct access to Google, Facebook and US internet giants; concerns were raised in India against the Chinese mobile messaging app WeChat. This was the time when the messaging app was flourishing, trying to compete with Whatsapp in India and eating a share of revenues of the telcos.
Recently Facebook CEO Mark Zuckerberg while addressing a gathering at Georgetown University, referred to Facebook as a champion of free-expression and at the same time took a dig on China and how apps like TikTok are censoring content in the US. He was indirectly referring to the guidelines presented by TikTok's parent company ByteDance, which were obtained by The Guardian last week. Later TikTok said that the guidelines were outdated and emphasised that US moderation decisions are made by a US-based team and are not influenced by a foreign government.
US, the largest market for TikTok slapped a $5.7 million fee by the US Federal Trade Commission (FTC) to settle allegations that it collected information from children under 13. Post this TikTok introduced the age gate feature in the US and India too. India has no such law, so what's the logic of having such a feature?
UK is another country that has been investigating whether TikTok was breaching data protection law. These concerns were raised by the UK after TikTok had to settle allegations in the US.
TikTok knows how to settle cases, where money was required it paid and in other instances, it is working with the specific governments and abiding the law. To prove that the app's content moderation policies are transparent, it's enlisting some former US lawmakers in this effort.
In India, after a day Tiktok opened up the #edutok program for offline engagement, it revealed Nikhil Gandhi has been hired as India's head. The company stated that one of the initiatives for the former president and COO at Times Network will be focussing on #EduTok.
PM Narendra Modi's Skill India Initiative
The job market in India isn't in great shape. According to the ManpowerGroup Employment Outlook Survey, only 13% of employers across the country indicate upbeat hiring plans for the next three months, while 61% anticipate no change in their payrolls. The report further stated that India's job market, overall looks consistent, although it is still going through a transition with a slowdown in employment.
A recent data compiled by Mumbai-based CMIE reportedly claimed that the unemployment rate in India rose to 7.2% in Feb 2019.
The economy has taken a hit, the fear of automation is out there and as a result, new skills are in demand. By 2020 India is expected to have 34.33% of the youth population and they are going to face the heat with a not so positive job market. Last year a World Bank report stated that eight million jobs are required every year for India, as its working-age population (above 15 years) is increasing by 1.3 million every month. As many as 18.3 million Indians were unemployed in 2017, and unemployment is projected to increase to 18.9 million by 2019.
But young India is not interested in the old ways of making money and living a peaceful life. Young India is willing to give up their full-time jobs and ready to do freelance work. "80% of working adults believe that freelance work is a viable alternative to full-time employment." These findings were part of a survey done by market researcher YouGov in collaboration with Mint.
This is where PM Narendra Modi's vision for the Skill India program comes into the picture. Launched in 2015, the program aims to train over 40 crore people in India in different skills by 2022. In doing so the government hopes to create 100 million jobs by 2022. Experts believe that one of the most popular "Make in India" initiative is going to empower the Skill India program and be the answer for India's unemployment.
TikTok's EduTok program wants to bridge the gap between industry demand and the skill ecosystem and in doing so it very well fits with the Indian government's vision of Skill India. The Indian government also needs such support for its mammoth vision but TikTok's needs are more. It wouldn't want to be in the spot of getting banned again and experience losses(the last ban cost the company $500,000/day.)
#EduTok - will it be a gimmick
TikTok doesn't want to repeat WeChat's mistake. EduTok is the icebreaker that TikTok needed with the Indian government. The execution, buzz, and success will decide the fate of TikTok in India. For now, it is way ahead of the danger zone of once again getting banned.
EduTok on the face looks good but the real challenge will come when it goes offline. Can it really bridge the knowledge gap, equip the youth with the desired skills and finally seal the flow with jobs. With a focus on the regional market, TikTok is trying to solve the unemployment problem of a section that has been badly hit by unemployment. It won't be easy but the intent is there. In July TikTok had partnered with National Skill Development Corporation (NSDC) to support skill development in India and celebrate World Youth Skills Day 2019.
As of now, EduTok has been an online initiative and it has been successful. Influencers created content on various education topics and the audience lapped it up. Views state that it has been a successful initiative but one can't be sure how many people are actually consuming content with the intent of learning and executing in their mundane life. Tough ask but that is the end goal.
TikTok collaborating with organizations such as Josh Talks and The/Nudge Foundation is the obvious step forward. Earlier in September, TikTok also launched EduTokXCampus program at Narsee Monjee College of Commerce and Economics, IIT Mumbai and Kelka(V.G. Vaze college). The program is aimed at encouraging knowledge sharing among the student community and motivating them to hone their talent by creating and sharing educational content on TikTok.
You have to understand the youth before they understand you. Today's youth is speaking the language of TikTok and if education on various topics can be done in a manner they understand then it won't be boring. TikTok's EduTok is doing the same - it is delivering content created by influencers in a language the youth understands, growing its user base by going to the last mile and at the same time keeping the government happy. Now with offline extension and focusing on skill development it is stitching the entire loop.
TikTok is here to stay, Facebook you have competition both in the US and India.
Image credit: Twitter